A very Joaquin Andujar start to the Big XII baseball tournament.

Texas, my pick to win the whole thing, found itself in the losers bracket right away when they got outslugged by Oklahoma State 10-4. But then again, when you leave the bases loaded twice and leave 12 runners on base total, losses are inevitable.

The biggest upset of the day, however, was pulled off by the Texas Tech Red Raiders, who took on Nebraska and won 5-3. Now, Nebraska has the best pitching staff in the conference, and Texas Tech has one of the worst. Not only that, Nebraska took 2 of 3 from the Raiders in Lubbock earlier this year. Wow!

Thankfully for these two, it's double-elimination up to the final, but they are walking a fine line. Especially Nebraska, who now faces a dangerous Oklahoma team that has rallied since the Cochell resignation.

Yesterday's Games

#6 Oklahoma State 10, #3 Texas 4
#2 Baylor 2, #7 Kansas 1 (10 innings)
#4 Missouri 8, #5 Oklahoma 7
#8 Texas Tech 5, #1 Nebraska 3

Today's games
Eliminaton Bracket:
#3 Texas vs. #7 Kansas - 11:00 AM Central
#1 Nebraska vs. #5 Oklahoma - 2:00 PM Central or 30 min. after Texas-Kansas
Winner's Bracket:
#2 Baylor vs #6 Oklahoma State - 5:00 PM Central
#4 Missouri vs. #8 Texas Tech - 7:00 PM Central

Softball Super Regionals

Bethune-Cookman at Texas

This is not as cut-and-dried as it looks. Bethune-Cookman could be the Gonzaga of the softball ranks. They knocked off several nationally ranked teams over the course of the season, including Florida Gators, the seeded team in their region. That said, they still have to win at least one, possibly 2 games against Cat Osterman, who is absolutely unhittable.

Alabama at Texas A&M

Two teams that seem fairly even on paper, but I gotta go with A&M because it's really tough to win on the road in college softball. Plus,
A&M has a team blogger
. Gotta like that.

Oklahoma at Arizona

This is a tough draw for Oklahoma because Arizona is one of the dominant programs in softball. As in 10 Pac-10 titles, 6 national championships, and Jennie Finch's alma mater dominant. Plus, Arizona coach Mike Candrea was the U.S. Olympic Softball Team coach in Athens. However, the Sooners beat the Wildcats in last year's playoffs.

California at Baylor

California was #1 for most of the year, and they are the higher seed in this Super Regional, which makes it a little weird that they are travelling to Baylor for this round. Still, Cal should emerge here.

(By the way, to those Cal fans that still think they got cheated out of the BCS:
Scoreboard
.)

Tomorrow: Don't! Get! Eliminated!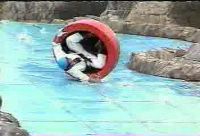 (Tokyo TV/Spike TV)