Yesterday,
Nebraska inexplicably lost to Arizona State
, eliminating them from the College World Series. Had it not been for Retief Goosen's collapse at the U.S. Open and the Spurs collapse last night, It would have been the biggest collapse this week.
What happened? This program is consistently one of the best in the Big XII, which is no small feat given that they play in a cold-weather climate in February and March, and yet they are 1-6 in their last 3 College World Series appearances, which incidentally is not held that far from the main campus in Lincoln. And the one win was this year.
The best lineup in the Big XII, the second best staff ERA in the nation, tons of major league draftees, including the second overall pick, and you can only improve ONE WIN on you previous two trips to Omaha, where you're basically the home team for every game you play?
Don't get me wrong, Nebraska baseball has a fan base most colleges would kill for. They used to show up en masse at Dan Law Field whenever the Huskers would play the Raiders. Texas A&M, Baylor, and UT won't even do that.
But the team collapsed big time when they go to Omaha, and it boggles the mind as to why.
Although I'm sure Husker fan will find a way to blame this one on Bill Callahan.
Baylor sets up rematch with Horns
Nebraska's fellow co-champ Baylor, however continues the school's impressive spring by knocking
off top seeded Tulane and their many major league draft picks 8-7
. This sets up a rematch with Texas, whom the Bears were previously unbeaten against until the Horns knocked off the Bears to send them into the losers bracket.
I'm glad it's in primetime, because this is going to be the game of the day.
Bracket Finals Schedule
Today
Bracket 1 Final: Florida-Arizona State, 1:00 PM ESPN (Probably in progress by the time this gets through Blogger's publisher)
Bracket 2 Final: Texas-Baylor, 7:00 PM ESPN2
Thursday
If Arizona State wins: Florida-Arizona State 1:00 PM ESPN
If Baylor wins: Texas-Baylor, 7:00 PM ESPN
Nothing to do with baseball
Lindsay Lohan needs to eat something. Seriously.
I saw an interview with her the other day and she looks like she's wasting away.
This is her from the Confessions of a Teenage Drama Queen premiere.(in 2004)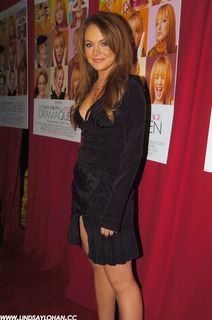 (lindsaylohan.cc)

This is her from the Herbie premiere
(Rio Leyva/Fashion Wire Daily)
If
Dick Durbin
ever saw her, he'd compare Hollywood to a gulag, a concentration camp and a collection of Pol Pot's murder victims.
Maybe we need to start the drumbeat for testing for performance-enhancing diet drugs among actors. After all, we have as much visual evidence for mass weight loss among celebs as we do weight gain in baseball players.
(Good gravy, I did a celebrity rant. Am I becoming the
Thigh Master
?)
Tomorrow: If that's moving up, then I'm moving out.